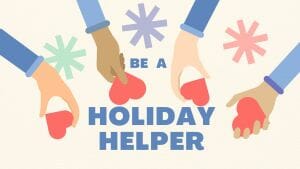 BE A HOLIDAY HELPER  - MAKE A DIFFERENCE!
Here are several ways you and your company can make a difference in our community this season supporting these Chamber-Member Non-Profit Charities with your donations and volunteer service.
CITY CENTER THANKSGIVING CELEBRATION
Saturday, November 19 
Volunteer at this family-friendly event providing a delicious Thanksgiving meal, clothing, coats, and free food boxes.
MORE INFO - 405-384-5670 
THANKSGIVING-IN-A-BOX WITH REACHING OUR CITY
Sign up to fill a box (or several) with the groceries for a festive homemade Thanksgiving Meal. Bring the Box to ROC by Nov. 15.  Volunteers also needed for the Pick-Up-Party on Tuesday, Nov. 22
PUTNAM CITY SCHOOLS FOUNDATION CARE SHARE HOLIDAY ADOPTION PROGRAM
Sign up to bring cheer for a child or family. SIGN UP NOW. You will receive a child's name and wish list via email by Nov. 18.  $75 spending limit per child.
PUTNAM CITY SCHOOLS FOUNDATION CARE SHARE COAT DRIVE
Coats, shoes, and warm clothing are provided to children identified by teachers and counselors as having a need. Donations of new apparel (or funds to purchase them) are gratefully accepted.
VOLUNTEER WITH A VERY MERRY CITY CENTER CHRISTMAS
Make Christmas special for over 2500 kids and families. Volunteer to help with prep, gift wrapping, decorating, and delivering, as well as a big Dec. 16 event.  Sign up now to be part of the Jolly Christmas Crew.
 CALL 405-384-5670 for MORE INFO 
REACHING OUR CITY POP-UP CHRISTMAS STORE
Donate toys from the Amazon or Walmart Wish List by November 27. On Dec. 3, participating parents and grandparents get to "shop" and wrap gifts for the children they love.
BETHANY CHILDREN'S HEALTH CENTER WISH LISTS ON AMAZON SMILE
Help with the Basic Needs  and the Education & Therapy Wish Lists by purchasing items on Amazon Smile.  Every item, big and small, makes a huge difference to the children receiving care, as well as their families and the staff.