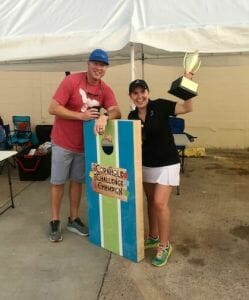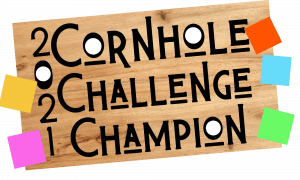 The 2021 Cornhole Challenge was a success, raising fun and funds for the Chamber.
Congratulations to Valliance Bank's "Hole Enchilada" Team, crowned this year's Champion.
Second Place went to Resolute Visuals' "Hackety Sackety Dads" who placed last year as well.
In Third place was team "Money Bags" from Valliance Bank.
In the Leisure League, top three teams were Running Wild Catering's "Wild Corn Stars", and "Corn Dogs" and "Broad Side of a Barn", both from First Bethany Bank & Trust.
Fifteen Teams competed in the Competitive League and Fourteen Teams in the Leisure League.
Special thanks to our Location Host "Broke Brewing Company" and our Food Truck "Cowboys & Angels Chuckwagon".
We want to recognize our Sponsors:
"Cornado Sponsor" FIRST BETHANY BANK & TRUST
"Hanger Sponsor" BUCHANAN FUNERAL SERVICE
"Hanger Sponsor" VALLIANCE BANK
Ace Sponsors:
Bill Merritt Funeral Service
Home 2 Suites by Hilton - NW Expressway
MVP Insurance
Resolute Visuals
Running Wild Catering
Southern Nazarene University
And to the individual teams playing: Allen Auto Body, Gibbons & James Inspections, Lilygrass Flowers & Decor, LMRoss, Inc., okcFRIDAY, and SRB.
A HUGE THANKS to EVENT CHAIRMAN - BRIAN HANCOCK with EDWARD JONES
and EVENT MVP - ALICIA RANKIN with LILYGRASS FLOWERS & DECOR
and event volunteers - Shawn Houk, Meghan Gordon, Priscilla Cude, & Abby Cabello as well as Chamber Staff : Ruth Stemen, Lori Callahan, and Jill McCartney
Thanks to all who donated Prizes and things for the player SWAG BAGS:
Broke Brewing Company, Focus Federal Credit Union, Easy Time Clock, Oklahoma Natural Gas, GEICO - Ed Shelton, Pros Make Ready, Halley Davis State Farm, Postal Annex, and Rachael Massey, Country Financial.