Leadership Northwest is a program developed by The Northwest Oklahoma City Chamber and coordinated with an Advisory Board of graduates of the program. Since its inception in the early 1990's, nearly 200 people have participated in the program. Leadership Northwest helps participants learn about the cultural, social and economic forces that impact business and the community and encourages its graduates to get involved. 2018-2019 will mark the 25th year of the program.
One of the primary goals of the program is to inform, motivate and better prepare its graduates to then take on leadership roles in service to the community. From September to May, the Leadership Class attends monthly sessions focusing on education, public safety, economic development, health care, government and non-profit organizations to gain an awareness of the challenges and opportunities that exist in this community, as well as to discuss and develop potential solutions.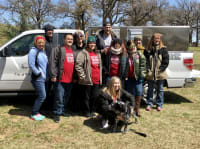 Each Leadership Class creates a special service project in service to the community. Past class projects include remodeling a shelter room for the Oklahoma City YWCA's Domestic Violence Shelter, creating a school fundraiser night for at-risk students, and an update for the Northwest Chamber office. raising funds in support of The Children's Center in Bethany, developing a website and marketing materials for "Urban Youth Leadership", a new nonprofit working to give deserving underprivileged students hope and resources to go to college and raising resources and installing community gardens at the local YMCA.
The 2016 class helped in raising awareness, resouces and funds for the Reaching Our City summer program for at-risk children, and the 2017 class assisted Apollo Elementary families and students with supplemental needs. Members of that class brought that idea back to their business, applied for, and received a grant to assist with these ongoing support needs.  The Class of 2018 focused on reducing animal death by organizing and promoting a pet adoption event, "Paws In the Park" for the Bethany Animal Shelter.
A graduation celebration is held each year in May upon completion of the program to recognize and honor the graduates of the year's Leadership Class.